Exodus 28:31-35 to 29:18                   Etz Chayim 508
Haftarah Y'hezkel 43:10-27                            520
Tetzaveh continues the instructions given regarding the Tabernacle, with a special focus on the clothes worn by the High Priest.
Both the structure of the Mishkan and the clothing of the kohanim, and particularly the Kohen Gadol are highly symbolic, and one of the ways of finding meaning in these readings, particularly if you are not in the fashion business, is to understand the symbols.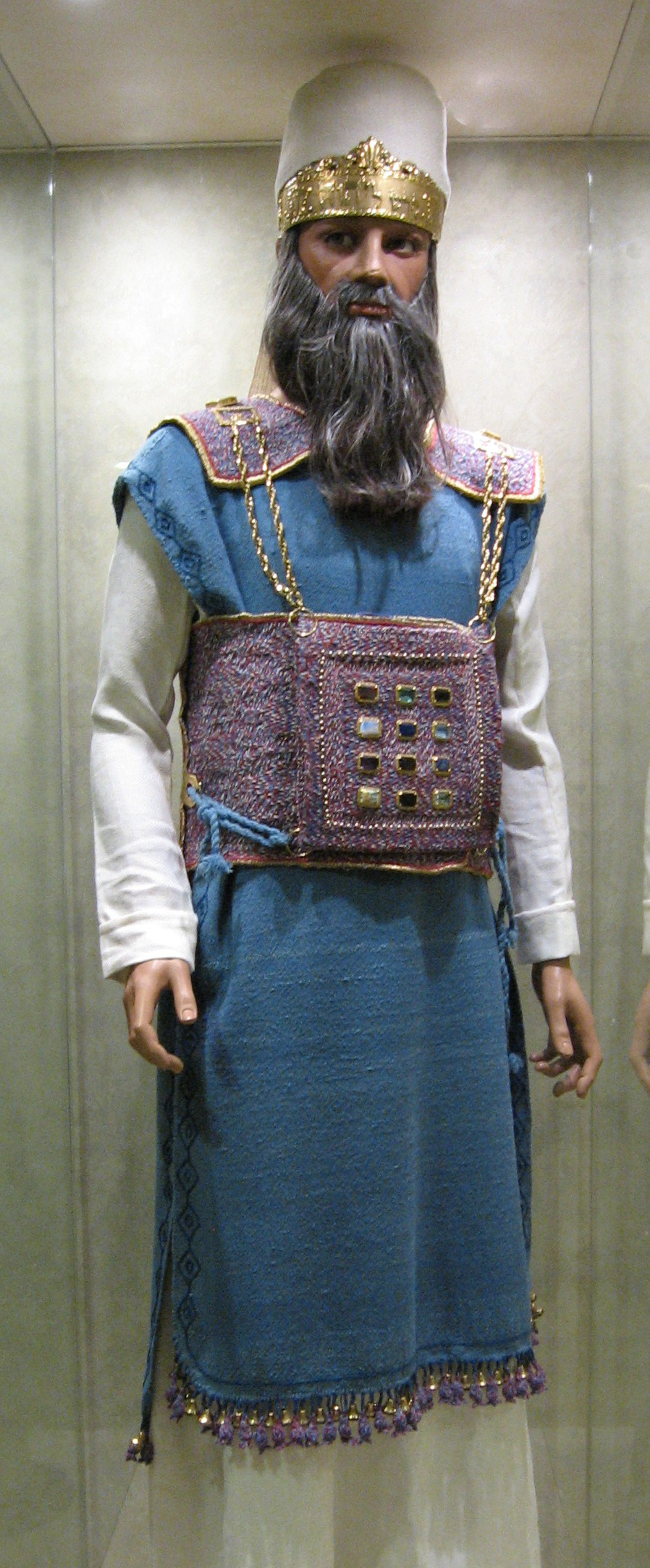 So as I read, please give your attention to the clothes of the High Priest. What do you think they symbolize? I am particularly interested in the first verses of our reading.
===
Our reading deals with certain aspects of Aharon's clothing: a blue robe with bells, a frontlet, a tunic, a head covering and breeches. The piece our reading skips, because of the triennial cycle, is the breastplate.
==
[A general discussion about clothing and attitudes emerged, with a question regarding "dressing code" for shul. The was a consensus built in the need of it being a internal action much more than a top-to-bottom process. Many shared their upbringing coming to shul wearing special clothing. COVID was mentioned as a time when we don't pay attention s much to what we wear, and wearing the same house attire everyday contributes to the feeling of isolation]
[Naomi Kamins brought us back to the main topic – the weight is symbolic of the weight of leadership]
And here were my written remarks, which I wove some into our discussion:
First I want us to know that the triennial makes us lose an important refrain, one that appears several times when the Torah is talking about the clothes of Aharon and his sons: lekavod uletifaret – for glory and honor.  And the simplest way to understand those is, of course, the saying "the clothes make the person". We feel differently when we wear certain clothes, and we express our relationship to our surroundings differently. In part this is the game of Purim – we are allowed to wear something completely different and change our relationship with our surroundings as we read that particular story.
Aharon and his sons are expected to take a certain role – the ones who raise the consciousness of the people, despite their own defects. Notice that all these descriptions are coming before what we know is the worse moment of the people, the golden calf incident. So Aharon will wear those clothes with everyone knowing of his own part in the golden calf, and maybe even worse, with him knowing what he did. In a general sense we have this particular set of clothing helping Aharon and his children through what we know today as imposter syndrome, the idea that you are not really good enough for whatever you do, that you don't trust your own expertise. Aharon, having succumbed to the wishes of the people and facilitating, at least, idolatry, is definitely second-guessing himself at all times. So the refrain "lekavod uletifaret", to glory and honor – are a validation of yes, you are good enough. Your teshuvah has been accepted – to the point that you and your sons are the priests. That is the most basic understanding.
And now let's dive deeper.
The blue robe is not any blue – it is tchelet, a specific blue that some nowadays use in the tzitzit. It is symbolic of the sky and the sea, according to the Talmud [Menachot 89a]. Both the sky and the sea are expansion of horizons, a reminder of transcendence, of expanded consciousness of mochin de-gadlut, in the Jewish tradition. Mochin de-gadlut, expanded consciousness, reminds us – and Aharon, of course – that life, to be meaningful, is lived above the constant, small talk of our brains. That talk can be divided into "I like this" "I dislike this"; "this is pleasant/unpleasant." Mochin degadlut, expanded consciousness, raises above that to try to find meaning. And this is a lesson not only for the kohanim, but also for us. When did you last look to your tallit and desired expanded consciousness? When did you last pray and have a moment of greatness, or at least of greater understanding about your own fights?
Now the Hebrew is interesting here: the blue robe has an opening, a peh, a mouth. Even though it is translated as "opening" the expression is "pi rosho" – the mouth of its head. The text is talking about the robe, but you can read – the Chafetz Chayim (Yisrael Meir Kagan, Belarus, 1838-1933) certainly does – as an indication of your mouth, specifically. And he goes onto marrying the two ideas – transcendence and your mouth. Your words, he says, raise up all the time. So imagine the words you use, when you are happy, angry, sad. When you meet someone. All those words are energies that float up to the Throne of Glory, and there they get separated to confront you later. And so the Chafetz Chayim reads all these descriptions of the robe as warning against the misuse of your own power to speak. For the Chafetz Chayim the moment you abandon the thoughts about how you talk to people you will eventually abandon all mitzvot.
Now, even though Aharon and his sons will be seen as conduits for the relationship between God and the Jews in the desert and while the temple is standing, we all know fights happen. Conflict is inside every single human relationship. How you deal with that conflict is fundamental. The Chafetz Chayim will point out that there is this specific expression on the second verse of our reading, verse 32. The mouth is supposed not to tear, and supposed to be like a coat mail – both of which indicate war. And he says – when you do not feed into the conflict with your own words, that is already a coat mail. That is your defense. So it's not only about being careful with which words you use, but being careful with how you express yourself, and how you behave in conflict.
Now, what to make of the hem, that has a pomegranate and a bell, all around? There are moments of speech and moments of silence. A bell always makes a sound, the pomegranate never does. Knowing when to be silent and when to speak is fundamental. Speech – because it is energy, because it can build up or tear apart – is partnered with silence, with refraining from speaking. And we could add – with listening. Silence is the first step to be able to listen, and then to hear. And we all want to be heard, particularly by our leaders.
Aharon, in the Jewish tradition, will be connected to the community in ways that Moshe never could be. He runs after peace, making peace between people. When Aharon dies the whole community is upset, the text says "the entire house of Israel wept" – more even than when Moshe dies, when we read "the children of Israel wept". In part it is because unlike Moshe, Aharon actually listens to people – and tries to work with them. Which is why the next piece of clothing is important.
The frontlet says "Kadosh LYHVH" – Holy to Ad-nai. This is a symbol, a constant reminder to Aharon of his failure in leadership – which is coming in our reading, next week: the Golden Calf. He lets the people build it, does not really take responsibility, and is unable to set limits to the group. If Moshe is all about the rules, decision, limits – Aharon is the soft side of leadership. But it does not end well in that particular instance. So that is the reminder of an eternal struggle of human beings: your core values versus the forces around us and within us. Aharon needs this constant reminder – he is for God. All his work with the community is for a higher value, the molding of this ragtag band of slaves into a more or less cohesive group centered in Jewish values and in God. The headdress, which is like a cook's hat according to some opinions, or like a kippah, according to others, reminds the wearer of that.
I heard an interesting story – Rabbi Artson, the dean of my rabbinical school, was once a pulpit rabbi. And a teenager came to talk to him. You see, the teenager had began wearing a kippah all the time. But the teen also had a problem, which is, he was a very hot headed driver. He would curse for the drop of a hat, and would cut people off and so on. So his question to rabbi Artson was that, since he felt that he was giving the Jewish people a bad name because of his driving habits, could he just take off the kippah while he was driving? And rabbi Artson said: well, if you yourself know that your behavior while driving is horrifying, maybe the weight of the Jewish people will make you a better driver. No, you may not take your kippah off.
In Aharon's case the frontlet is there to remind him of his own mistakes, and at the same time to help him as the purifier of the intentions of the people – to take away any sin arising from the sacred donations. That means that as one gives to the Temple – an animal for sacrifice, or the other donations, like first fruits and challah – the intentions and thoughts might need some help. Looking at Aharon with the "holy to Hashem" headband might help also us, simple people, direct our intentions.
And this is, in part, what clothing does. It is supposed to be a reminder of values, something that will help you not buckle under the pressures. There is a famous story in the Talmud (Menachot 44a) about a student  of rabbi Hiyya who goes to a prostitute, paying an enormous amount up front, but as he is getting naked his tzitzit slap him on the face, and he decides not to go through with it. The story has a happy ending: she stops being a prostitute, converts and marries him. And it is thought that his attributing a larger consciousness to the fact that he had tzitzit on is what makes for the good end of the story. The moment you wear something specifically with an intent, if you are awake and remind yourself of those values, you will be better equipped to make different choices, more aligned with your best version of yourself.
And finally, the last piece of clothing, the tunic. In Hebrew, it is called kutonet. And there is another story about kutonet – which is the kutonet passim of Yosef. And one Chasidic master, Rabbi Tzvi Elimelech of Dinov (1783-1841) in his book Agra deKalah, connects kutonet that to the sale of Yosef. And to the jealousy that almost destroyed the Jewish people at its very inception. Wearing kutanot, tunics, would help the kohanim to transcend the common jealousies of being siblings and family.
On the word shesh – translated as fine linen – the Alshich (Rabbi Moshe Alshich, 16th century, Tzfat) has his own point. It is not just a reminder of how to guard oneself against jealousy, but also a reminder that Proverbs say that six things are seen as terrible by God – shesh in Hebrew means six. And those six things are pretty basic:  lying tongue, hands that shed innocent blood, minds that hatch evil plots, feet who run do to evil, false witnessing, and creating ill-will among siblings.
The Alshich then sees the kutonet shesh, the linen tunic, as a reminder of these six basic things that the kohanim are supposed to be reminded of at all times. The idea being that our leaders are supposed to be held at a higher standard – but also are supposed to have constant reminders of that higher standard.
And so it is with us – it is not just about the kohanim. When did you last make a clear choice about the values you espouse when you use something?
Once I went to a store where kids clothes were being sold – it was a food store – in Danbury. An entire attire for boys – pants, tshirt and shirt – was being sold for 5 dollars. Even though we were strapped for money and my young boys might have benefitted of a new set of clothes, I didn't buy them. In part because I realized that that price had to come with someone else paying for it: was it slavery? Smuggling? Whatever it was, I decided I did not want to be involved with it. If other people bought it, what could I do? But I was not going to have that in my house.
And I want to let people with that question: when was the last time ou paid attention to what you were supporting when you bought clothes?
May the week that begins bring us to a point of being more deliberate in our expression of our values through our wardrobe choices.
Amen